Welcome to PerSona, vocal room of TU Dortmund University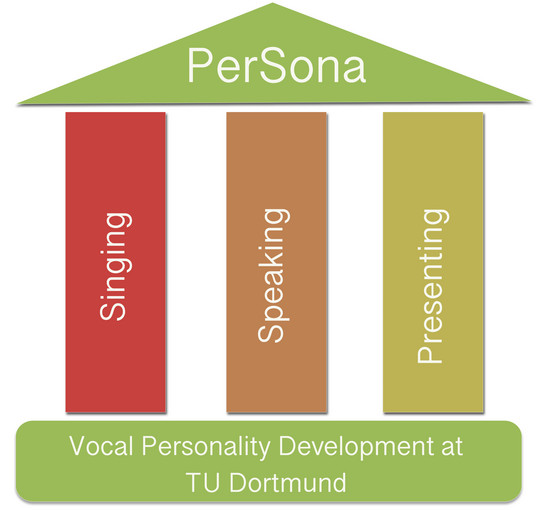 Every day, our voice is exposed to enormous stress in changing contexts of everyday and professional life. An adaptable, modulation-rich, melodious and sustainable voice with good resilience is often required. It doesn't matter whether lectures have to be held, research results presented or seminar sessions led. Whether professors, students or employees: everyone must be able to count on their voice at all times.
At the same time, singing is becoming increasingly popular, especially joint singing. Latest research proves the salutogenetic effects of singing. The positive physical, mental and psychological effects of singing together on the singers themselves are undisputed. Breathing and posture are optimised, which increases performance and concentration as well as general well-being and resilience. At the same time, balancing the emotional household reduces stress and increases satisfaction.
But singing together has another significant potential, the decrease of which is increasingly being expressed in today's society and world of work. Employers complain about a decline in social skills and demand soft skills training. Through singing in the community and adapted speech training in the group, precisely these social skills are trained again and again.
PerSona focuses on the voice with all its shades. It is not only a means to an end, as it is often the case in standard presentation training, but the actual medium. Based on the premise "voice training = personality development", the participants' individual personalities are used as a starting point to optimise their external impact by gaining authenticity. Through the preferred group training, important social and communicative skills are also practised for cooperative interaction in everyday life as well as in a professional context.
PerSona is still under construction. We are therefore particularly pleased to receive your suggestions and criticisms. You are welcome to email or call us.
To top of page